img by : https://www.hocho-knife.com/
Now that you've learned about Misono's UX10 Gyutou knife, let's look at two other knives from Misono's UX10 Series.
Misono UX10 Santoku Knife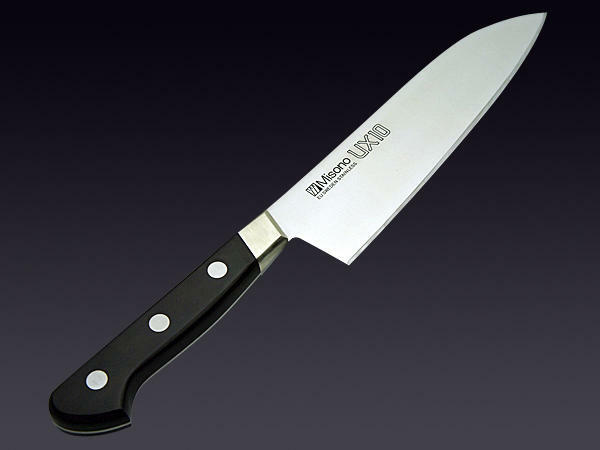 The next Misono knife in our list of top 3 list of knives from the UX10 Series is the UX10 Santoku knife. This knife is versatile and is suitable for a wide variety of users, not to mention made from quality materials and expertly crafted. Like the Gyutou knife, this knife is also made of Swedish steel and features a 7'' long blade. It features a Rockwell hardness of 59-60, and the silver, riveted bolster affords protection for your fingers.
What's so special about the Santoku is that the majority of the knife is mostly handcrafted, and the craftsmen take great care and pay extreme attention to detail to ensure the knife is made to the highest standards. The knife is also hand-polished and features 70:30 bevels that are asymmetrical. The blade is double-edged and offers great edge retention on both sides. The handle is crafted out of composite wood with a full tang handle. As with other Misono knives, the Santoku is made with three rivets which helps sustain the full tang exposure of the knife.
Pros
Shark knife edges allow for quick cutting jobs
A versatile knife that can be used for a variety of purposes
You can cut fish, meats, and vegetables comfortably
A great looking knife that will look great in the background of all kitchens
Capable of cutting heavy duty ingredients
The handle is very comfortable and ergonomic
The strong bolster keeps your hands safe and allow for quick jobs
Cons
The knife doesn't come with a sheath
The knife is designed for use by right-handed users
The knife requires constant maintenance practices
The Misono UX10 Santoku knife is a great, versatile kitchen tool that is perfect for a variety of different cutting tasks. The goal when creating this knife was to create a tool that can be used for the majority of kitchen work. If you're looking to keep your kitchen tidy and want versatile tools that can be used for many different purposes, then the Santoku is the perfect knife for you. Many users of Misono's Santoku knives are extremely happy with the performance.
Misono UX10 Petty Knife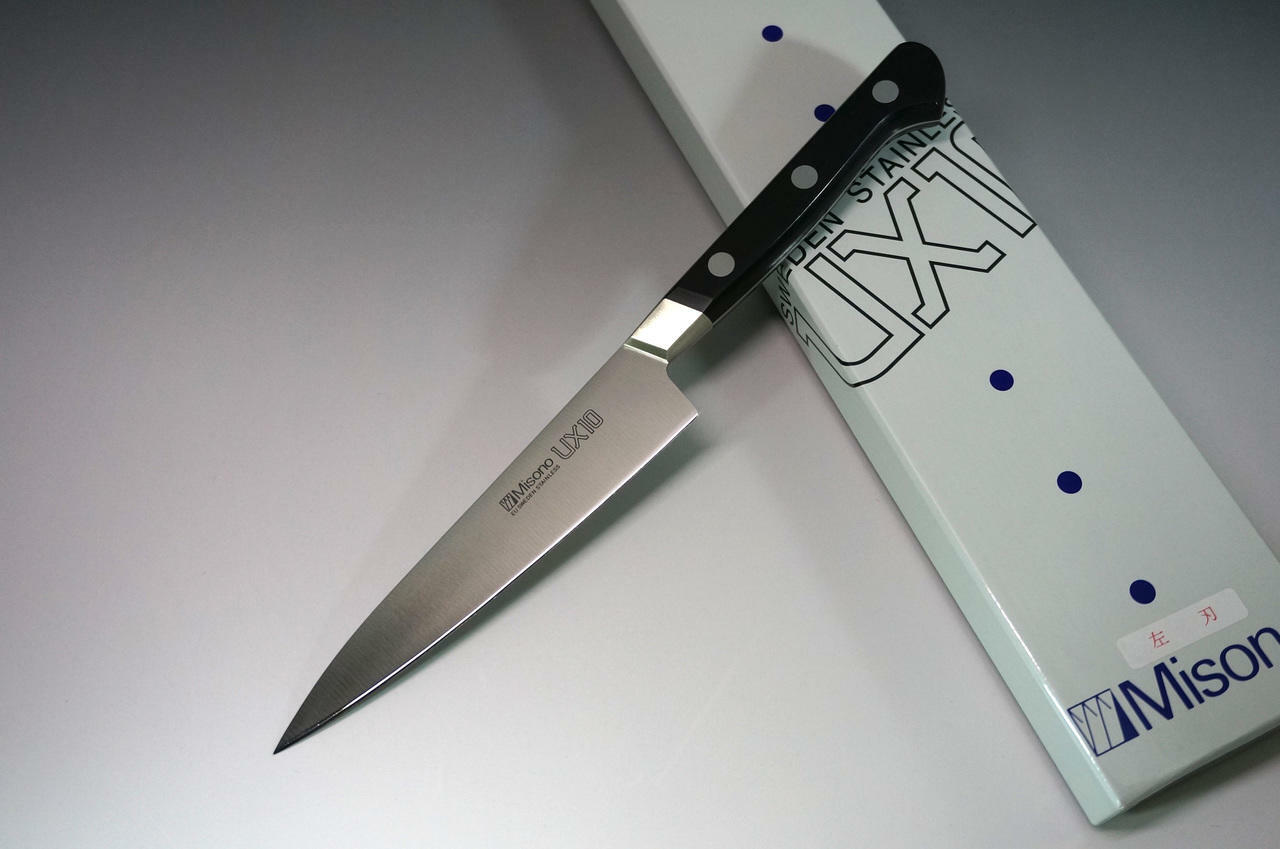 Our last pick in our list of top 3 list of knives from the UX10 Series is the UX10 Petty knife. If you're looking for a smaller chef's knife that cuts vegetables with ease, then you should really consider this knife. The purpose of this knife is for users who are looking to make precision cuts. Like other knives in the UX10 Series, the Petty knife is made of Swedish steel, which provides great advantages and is known to hold edges much longer than other steels. The blade is 5.9'' long which is perfect for smaller, precision cuts. The knife features a bolster made from riveted nickel silver, which prevents your fingers from strain and fatigue. The knife has sharp double edges which allow for efficiently completing peeling jobs. Many professional chefs that work in high-end restaurants where food presentation is important such as 5-Star hotels enjoy using this knife as it's perfect for more delicate dishes. The blade features 59-60 degrees Rockwell hardness which is great for a small knife. The bevels are asymmetrical and re perfect for users who use the knife to peel or skin vegetables and soft poultry. Like the thin profile of the blades, the handle is also thin which matches the overall knife design and aesthetic. The handle is a full tang handle made with moisture-resistant composite wood material.
Pros
Perfect for users who prefer a smaller knife
Easy to carry due to its compact size
A great knife for peeling
A great multi-tasking knife with a small profile which can be used in large kitchens
Rust and corrosion resistant
Features a thin edge which holds its sharpness for longer
A comfortable handle that's easy to grip
Cons
Might be too small for users with larger hands
Requires proper maintenance to keep in good shape
The Misono UX10 Petty knife is one of the most popular knives in Misono's UX10 Series. The knife satisfies its purpose of cutting and peeling smaller vegetables and meats just as it was intended to do, and allows users to quickly and smoothly cut objects with minimal effort. Users who experience using this knife have great things to say about this knife.
The Misono UX10 Series knives are some of Japan's best and most famous knives. Everything from Misono's material selections, to their manufacturing process make it evident that Misono is one of Japan's best knife brands. Now that you've learned about the UX10 Series, you should be able to decide which knife best suits your needs.